If you require any advice or have any information you would like to report you can call us on 01389 737000 or email us.
Trading Standards give advice on taking control of your phone.
A nuisance phone call is any unwelcome call that you receive in your home - in the UK people receive over 3 billion nuisance phone calls each year. Call centre technology is reducing the cost of making telemarketing calls, and as the costs go down, the number of these calls increases. It is for this reason that Trading Standards in West Dunbartonshire are currently giving advice on how to deal with cold callers over the phone.
There are many ways in which you can help to reduce the chance of you or your family falling for a phone scam or unknowingly attracting the attention of a malicious caller. Not only can you take steps such as registering with the telephone preference service you can now also install call blocking technology to successfully reduce these types of calls.
West Dunbartonshire Trading Standards recently trialled a call-blocking system with a vulnerable resident who was previously subjected to numerous calls each week regarding anything from PPI reclaim calls to offers of new kitchens and double glazing.  She has told Trading Standards "Before having this system fitted I was receiving calls every day. I have mobility issues and was constantly struggling to get to the phone to answer calls thinking it was a member of my family or a friend only for it to be yet another automated message or sales call.  With this system fitted I only answer calls that I want to and I don't have to rush to get to the phone as the system picks them up for me".
Since the call blocker was installed three months ago it has recorded that 58% of all calls received hung up during the call blocker screening process, 15% of callers left a message or hung up after hearing the answering machine recording and only 27% calls were actually connected to the resident after the call blocker screening process. 
Kirsten Halliday from Trading Standards said "This type of system can make a great difference to vulnerable people who are often targeted with unwanted nuisance and marketing calls.  Many become victims of identity theft or scams which result in significant financial loss and can have a serious impact on the victim's health and welfare".
Kirsten urged residents to visit the OFCOM website www.ofcom.org.uk to assist in reducing the number of calls received and also provided some tips for dealing with nuisance calls
Register with the telephone preference service

www.tpsonline.org.uk

(FREE  service)

Check if there are any call blocking facilities available from your phone provider

Consider installing a call blocking device

If registered with the telephone preference service and you are still receiving calls from businesses who you have previously informed you are on the telephone preference service, you can complain to TPS on 0845 070 0707 (Note that marketing calls are allowed unless you have advised the business previously to remove you from list and that you are on TPS)

If you are interested in purchasing a call blocking device do some research into the products on the market and select the most suitable product for your needs.  There are various systems and options available. 
Free Trial Offer!
West Dunbartonshire Trading Standards have a small number of call-blocking units available to trial and are looking to provide these to the most vulnerable residents, who in particular have been greatly affected by nuisance calls or are dealing with the challenge of dementia. If you or someone you know could benefit from an opportunity to trial the system, please call us on 01389 738791 for further information.
Trading Standards says "don't be a dummy mummy" & "bin the bling" after seizure of potentially lethal baby bling products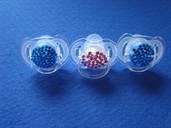 West Dunbartonshire's Trading Standards section has become aware of a fashionable increase in 'bling' style products.
Gems and beads being added onto items such as dummies, dummy straps, bottles or bibs is dangerous as they can become easily detached. Small babies and children are prone to putting such items in their mouth.
The glue used to affix the embellishments is not designed to withstand high temperature sterilisation. It is important that parents and carers are aware that these gems and beads present a very real chocking risk.
United Kingdom safety legislation does not permit the addition of adhesive labels and decorations being added to dummies. If you are selling these embellished goods then you risk a fine up to £20,000.
Trading standards warns about rogue cold callers
The Council is urging residents to be on their guard after receiving complaints from residents about canvassers trying to sell home insulation in the area on behalf of the Council.
Trading Standards have issued the warning after receiving a number of calls from worried residents.
The Council, in partnership with the Scottish Government's Universal Home Insulation Scheme (UHIS) can help residents make big savings on their fuel bills by installing cavity wall and loft insulation in suitable properties free of charge.
Private firms can also "sign-up" householders and pass their details on, for a fee, to installation companies who are paid by the Scottish Government. Whilst many organisations work within the guidelines and are perfectly entitled to operate in this market and approach consumers, Trading Standards say that recent complaints of canvassers claiming they are from and approved by Council are completely untrue.
Council staff and representatives from Carillion, who are working in partnership with the Council, carry identification and the Council would urge residents to check the identification of callers.  If residents are in any doubt, the Council will rearrange another suitable time to visit, which would allow the resident to have a family member or friend present.
Trading Standards Officer Nicky Johnston said: "We are aware of canvassers operating in the area following the introduction of the UHIS scheme. We have received complaints that some canvassers have falsely claimed that they come from or are approved by the Council. Additionally, there are reports that, after people have agreed to the free service, they are given a "hard-sell" to buy additional services, such as more insulation." 
Councillor Kath Ryall, Convenor of Corporate Services is keen to see local residents getting full benefit from the scheme.
Cllr Ryall said: "The UHIS scheme presents a genuine opportunity for residents to make their homes warmer and more energy-efficient. There are substantial savings to be made on fuel bills and that is something we all welcome. The Council, and its partner, Carillion, are directly approaching a number of residents and they can be confident that we will ensure that those households which require the insulation will get it free of charge and through the correct procedure".
Housing Energy Advice Officer, Gary Clark added: "We are contacting householders throughout the area offering this excellent, free service and arranging for the work to be carried out. Whether a property is suitable will depend on a number of factors and I would encourage residents to contact the Energy Saving Scotland Advice Centre 0800 512 012 to arrange a survey and find out if you can have additional insulation measures installed to your property."
Making false claims or attempting to charge for work which has been described as "free" are both criminal offences enforced by Trading Standards under consumer protection regulations. Trading Standards advises residents to check the identity of all callers to their home and, if they do agree to a contract, make sure you get a copy with full details of what you are getting and any potential costs.
Residents can call the Council's Housing Energy Advice Officer on 01389 608334 for further information.
Residents can also contact Citizens' Advice Consumer Services on 08454 04 05 06 or email Trading Standards for further information and advice.