Published 14 August 2017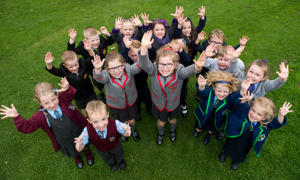 Teachers will be seeing double as 12 sets of twins start Primary 1 across West Dunbartonshire this week.
And eight sets of the twins gathered in Dumbarton ahead of the start of the school year for a group photograph.
The 16 youngsters made new pals and gave their new uniforms a test run as they mucked about at Dumbarton Common. While they gave the photographers on the day a challenge to get the perfect shot, it's clear the energetic twosomes will give their P1 teachers hours of fun once their education gets under way on Wednesday, August 16.
Gathering for the picture were Robbie and Ross Marshall (5) who will attend Bonhill Primary; Fergus and Freya Bannatyne (5) from Clydemuir Primary; Ishbel and Mhairi MacLeod (5) from Gavinburn Primary; Lily and Yvie Paterson (5) of Lennox Primary; and Eilidh and Saul Doherty (5) from St Peter's Primary; Nathan and Rosalie Keeley (5) from Our Lady of Loretto Primary; Andrew and Macie Giffen (5) from St Mary's Primary; and Neve and Ruby Priestley (4) from St Patrick's Primary.
Wee Freya Bannatyne can't wait to get started at Clydemuir Primary in Clydebank. She said: "I have already been learning reading and I want to go to school to learn even more." And her twin Fergus has his eye on playground shenanigans. He said: "I will like playtime best!"
Tracey Paterson, mum of Lennox-bound twins Lily and Yvie, said: "I'm a bit emotional about them starting school, but they're both definitely ready for it. They're clever wee girls and very sociable, so they will make new pals instantly and enjoy school."
Karen Conaghan, the Council's Convener of Education, said: "Our first day at school is something most of us remember and parents will also never forget taking their youngsters to school for the very first time. As a Council, we are committed to giving every child the best start to their education as we possibly can and providing them with everything they need for a lifetime of learning. I wish every child starting school this year, as well as every youngster returning after the summer holidays, all the very best for the future."
Caroline McAllister, Vice Convener of Education, added: "There will be some nerves among the children starting school this week, although even more so for their parents I'm sure. But they can rest assured that our school staff work extremely hard to help everyone settle in and get their learning off to a great start. Primary school should be among the most enjoyable years of our lives and I'm certain that will be the case for these twins and for every child attending primary schools in West Dunbartonshire this year."