Published 01 September 2017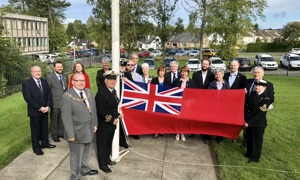 West Dunbartonshire Council has joined hundreds of local authorities in honouring Merchant Navy personnel past and present by flying the Red Ensign Flag.
Provost William Hendrie raised the flag at 10am today at the Council Offices at Garshake, Dumbarton, to officially mark Merchant Navy Day and show his support for sailors in the UK.
Members of the public joined Provost Hendrie, Gill Aitkenhead  Vice Lord Lieutenant, Owen Sayers Deputy Lieutenant, Commander George Troup BEM,  members of the Sea Cadets, Councillors and officers from the Council to show their appreciation to all serving personnel in West Dunbartonshire and across the UK.   
The flag, which has represented the Navy since 1707, will fly at the Garshake Road offices in Dumbarton for one week.
Provost Hendrie said: "I would like to thank everyone for coming along and showing their support and appreciation to the many men and women who work tirelessly on our behalf to keep people here and around the world safe. The Council is delighted to fly the flag to mark this important day and to publicly show our support for the great work the men and women of the navy do on our behalf.  It is important for serving personnel and their families to know that we fully support and appreciate the time they spend away at sea from their loved ones."  
Merchant Navy Day recognises the dedication of the UK's serving merchant seafarers and remembers the sacrifice of those brave men and women who kept supply lines open during the First and Second World Wars.
Merchant Navy Day is marked annually on September 3.