Published 17 July 2017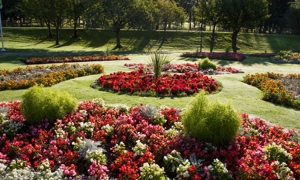 Dalmuir Park has been presented with a Green Flag Award in recognition of its high standards and provision of quality outdoor space.
The Green Flag Award, administered in Scotland by Keep Scotland Beautiful, is the benchmark for green space. Dalmuir Park received the award acknowledging the quality outdoor space that it provides and the wider benefits it delivers for communities - including enabling and encouraging exercise, improving mental well-being and encouraging play for child development.
It's a continuation of the recent success of the Dalmuir Park Restoration Project – set up to restore the park to its former glory – which was earlier this year presented with two awards by Keep Scotland Beautiful. The awarding of the It's Your Neighbourhood Recognition Award Certificate alongside a Certificate of Distinction marked the successful renovation and transformation of the park.
Dalmuir is one of a record number of 73 parks to win the Green flag Award for 2017.
Councillor Iain McLaren, West Dunbartonshire Council's Convener of Infrastructure and Regeneration, said: "The restoration of Dalmuir Park has been a huge success and we were delighted to see the project recognised by Keep Scotland Beautiful earlier this year. For the park to now be given a Green Flag award really is the icing on the cake. I congratulate every member of staff who worked so hard to improve Dalmuir Park for the people of West Dunbartonshire."
Derek Robertson, Chief Executive of Keep Scotland Beautiful, added: "I would like to congratulate West Dunbartonshire Council for receiving this prestigious benchmark at Dalmuir Park this year. It is pleasing to see their continued success and the number of Green Flag Awards in Scotland increasing year on year.
"Good quality green open spaces are vital to the health and wellbeing of local communities, families and individuals. Parks and open spaces are a fantastic asset - they are free to use and provide opportunities to exercise and socialise."
All parks put forward for the prize are assessed by volunteer judges with a background in parks management, conservation or ecology. Applicants are judged against demanding criteria which include assessing whether the park or green space is welcoming and well-maintained.
To be considered for the awards, the park managing authority must apply. Further information on how to see your local park involved in the Green Flag Awards can be found at: www.keepscotlandbeautiful.org/parks