Published 17 July 2017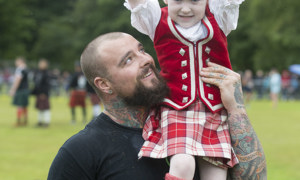 Thousands of visitors braved the weather to watch the popular annual Loch Lomond Highland Games at Balloch on Saturday.
The event, in Moss O'Balloch Park, hosted a range of traditional highland game competitions including cycling, running, hammer throwing and heavy weights and the traditional tossing of the caber and tug-of-war.
Along with the usual events, a 42 piece symphonic wind band from Belgium and Basque athletes performing stone lifting and wood cutting entertained the crowds.
Dancers entertained the audience by performing traditional highland dances with their immaculate costumes and perfect hair, and spectators enjoyed music from Helensburgh and Clan Colquhoun and Tulliallan Pipe Bands.
The popular games welcomed visitors from as far afield as America, Italy, France, Belgium, China and Canada who travelled to Scotland to enjoy the traditional Scottish games.
One international family planned their Scottish holiday round the games and were not put off by the poor weather. The Shippey family from North Carolina were delighted with the event and were even happy it rained!
Heather Shippey said: "We planned our trip to take in as many traditional events possible.  We have loved Scotland - even the rain hasn't put us off as it is a nice change for us. We have been thoroughly entertained by all the different sports here today, it's been fantastic."
West Dunbartonshire Provost William Hendrie, said: "Well done to all the competitors for putting on such a great show and thanks to the spectators for supporting the high quality sport on offer. It's been lovely to meet so many people who have travelled here to enjoy this great event. The Loch Lomond Highland Games has always been a great family day out offering something for everyone to enjoy. I am proud of our Scottish heritage and the Games are a great way for tourists and visitors to get a true taste of Scotland. Well done to both the Games' committee and West Dunbartonshire Leisure on organising yet another hugely successful event."
The Chieftain of the Loch Lomond Highland Games, Major James Macrae said: "Once again I am delighted with this year's event which has been a great success and has been very well attended. It is great testament to everyone involved in organising the Games, which attracts contestants and spectators from home and abroad every year. I would like to thank everyone who played their part in making this year's games a huge success. On behalf of the committee, I would like to thank our contestants and sponsors, in particular West Dunbartonshire Council, for their continued support."
For a full round up of results please visit Loch Lomond High Games website at www.llhgb.com