Published 10 October 2017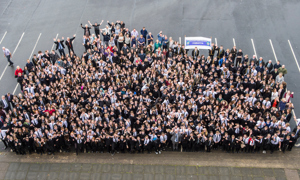 Hundreds of pupils and staff past and present have walked through the doors of Our Lady and St Patrick's High School in Dumbarton for the final time.
Pupils and staff are moving from the current building in Castlehill to a new state of the art school in Bellsmyre after an extended October break.
On Friday night the school held an open door event and invited former pupils, staff, family and friends to relive their school days and visit the building for one last time.
The school was formed when St Patrick's High School for boys and Notre Dame High School for girls merged in August 1990 within the building occupied by Notre Dame since 1969. The new name was chosen to represent both schools and a new tie and badge were developed incorporating the green and yellow from St Patrick's and the light and dark blue of Notre Dame.
Among the visitors on Friday was Ann Kelly and her friends who were the first intake of first year pupils welcomed into the building in 1969. Ann said: "We have many memories of our time here and for me the one that stands out the most was when our school choir appeared on BBC's Songs of Praise. We all celebrated our 60th birthdays this year and wanted to come and see the school again before it closes. We're all still friends and see each other regularly, and since we've left, our sons and daughters and even our grandchildren have come here."
Stephen Doherty was among the first boys to join the school when St Patrick's and Notre Dame amalgamated in 1990, and also took the opportunity to visit his old school and take a trip down memory lane. He said: "I played football with the school so it's been good to look back at the old team photographs although I'm still in touch with most of my friends from then. It's been good to come back but I think the school is starting to look tired, it's time for a move."
Current pupils heard the school bell sound for the last time at the site in Castlehill on Tuesday and will now enjoy a two week break before walking through the doors of the new building in Bellsmyre on October 25.  
Headteacher Christopher Smith said: "Our Lady and St Patrick's is not just a school it's a whole community. We have served first, second, third and fourth generations of families in this building and have created many happy memories. We have achieved so much here and that would not have been possible without the support of all of our families, staff, and the surrounding community, and on behalf of all pupils past and present, I want to thank them for that. We are looking forward to our new building and the opportunities that it will bring, allowing us to continue the strong tradition of Our Lady and St Patrick's High School and assisting all of our pupils to fulfil their potential."
Councillor Karen Conaghan Convener of Educational Services said: "It is the end of an era and the start of a new chapter for Our Lady and St Patrick's. The school is an integral part of our community and I am one of hundreds of former pupils who have fantastic memories of this building. The new campus has been designed for modern day learning and to complement the Curriculum for Excellence, presenting even greater opportunities for our young people to shine."
Councillor Caroline McAllister, Vice-Convener of Educational Services, added: "Our Lady and St Patrick's has served the community well and I know the building holds a place in the heart of many people across the area. The new state of the art school in Bellsmyre will equip young people with a range of new facilities to support them to achieve and attain."
The new £25million school in Howatshaws Road, will feature modern classrooms, an ICT suite, construction skills area, hospitality kitchen, a fitness suite, floodlit all-weather sports pitch and three outdoor games courts. It will open to pupils on Wednesday, 25 October.