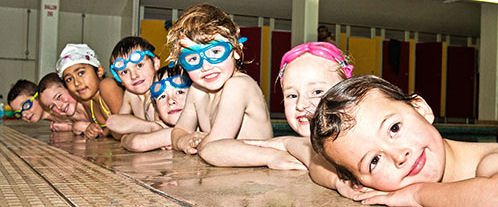 West Dunbartonshire Leisure run a full aquatics programme for baby, child and adult. "The National Learn to Swim Framework for Scotland is an all - inclusive pathway providing opportunities for everyone to participate in and aquatics discipline they choose, at whatever level they aspire to"
How to Join our Learn to Swim Programme
To check available spaces or to be added to our waiting list please call the venue that you wish your child to attend.
Clydebank Leisure Centre - 0141 951 4321 - The Meadow Centre - 01389 734094/ 01389 756384 - The Vale of Leven Swimming Pool - 01389 756931
Learn to Swim National Framework
The new programme is designed to enable our swimming teachers to plan, deliver and assess progressive programmes that produce swimmers that, depending on their ambitions, are either 'club ready' or 'ready for lifelong swimming.
Learn to Swim Levels
Learn to Swim Levels

| | |
| --- | --- |
| Level | Aim |
| Pre School | To become water confident and develop core aquatic skills without adult assistance |
| Swim Skills 1 | To further develop water confidence and develop core aquatics skills without aids |
| Swim Skills 2 | To increase competency of the core aquatic skills and develop basic stroke technique |
| Swim Skills 3 | Introduce more advance stroke technique and achieve Triple S standard (Scotland's safe swimmer) |
| Swim Skills 4 | To improve the quality of stroke technique, introduce multi aquatic skills/disciplines and basic lifesaving skills |
| Club Ready Swim | To improve and maintain stroke technique over distance and develop basic race skills/disciplines and basic lifesaving skills |