From living memory to memorial:
Dumbarton's WWI stories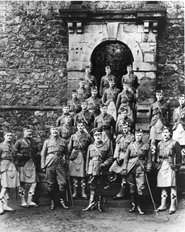 Was your family affected by the Great War?
Do you have a family photograph or family story that you would like to share?
West Dunbartonshire Libraries & Cultural Services Heritage team are looking for donations of family items or family stories relating to WWI for a Centenary exhibition to be held in Dumbarton Library in June – Nov 2018. 
T: 01389 608965
E: local.studies@west-dunbarton.gov.uk
Dumbarton Library Heritage Centre Opening Hours:
Mon - Thu - 9.30 am - 7.55 pm
Fri & Sat - 9.30 am - 4.55 pm
---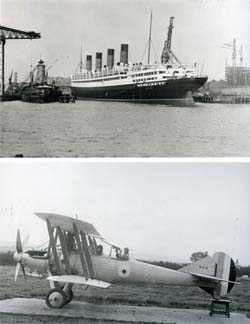 (Top)

Aquitania

, (Bottom) WB2 Biplane
Industry at Time of War 1914-1918
During WWI the industries of Clydebank and Dumbarton including the Singer Manufacturing Company, the shipyards John Brown's, Beardmore and Denny's were all engaged in a massive war effort. Ships such as HMS Ramillies, the Lusitania and the Aquitania were built at this time.
Ammunition, aircraft, tanks, submarines, and airships were just some of the huge range of the industrial output in the area during the war.
The exhibition features photographs from West Dunbartonshire Libraries' local history collections.
T: 0141 562 2434
E: local.studies@west-dunbarton.gov.uk
Clydebank Library Heritage Centre Opening Hours:
Mon - Thu - 9.30 am - 7.55 pm
Fri & Sat - 9.30 am - 4.55 pm
---