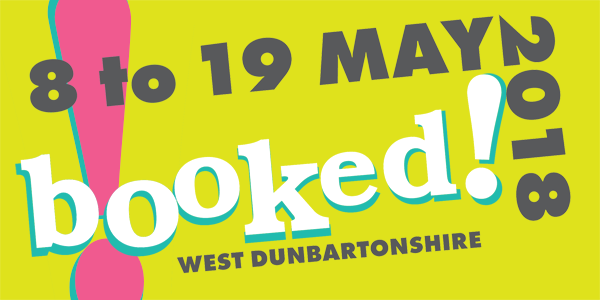 Welcome to Booked! 2018 - West Dunbartonshire's Annual Festival of Words
It is my privilege and pleasure to introduce this year's Booked! literary festival brought to you by West Dunbartonshire Council's Libraries and Cultural Services section with sponsorship from Creative Scotland.  
The Booked! ethos is to offer something for everyone and I think we have succeeded with this year's line-up. We aim to showcase established authors as well as new talent and to provide a range of experiences for local people.  
Booked! Cabaret is now well established as the finale of the festival and owing to the success of last year's Booked! Schools we will continue to incorporate our schools programme into Booked! Other festival highlights include our family friendly event with author Alison Murray and a very special screening of a brand new film Super November, starring Josie Long. Produced by local film makers, Studio 14c, the film recently premiered at The GFT and was filmed in our very own Clydebank Library. 
Booked! 2018 offers a varied menu of fiction and non-fiction authors, poets and singer-songwriters listed below. 
Event Brochure 
Download a copy of the BOOKED! 2018 event brochure (pdf Format)
 View our interactive brochure below  (click on middle of the image to view full screen). 
Calendar of Events
Archie Macpherson
Adventures in the Golden Age:
Scotland in the World Cup Finals 1974 - 1998
Faifley Library 7.00pm
Tuesday 8 May

Booked! 2018 opens with the ever popular broadcaster Archie Macpherson who reflects on the wonderful era when Scotland regularly qualified for the World
Cup and tells the tale of what happened both on and off the pitch.   
Sara Maitland
Alastair Pearson Lecture
Millennium Hall, Gartocharn 7.00pm
Wednesday 9 May
This year's Alastair Pearson Lecture will be delivered by award winning novelist Sara Maitland. Sara will be exploring the history of solitude, and it's often neglected joys. 
Ever Dundas
'Goblin'
Parkhall Library 7.00pm
Thursday 10 May

Ever Dundas will be talking about her debut novel Goblin which has received rave reviews and a Saltire First Novel Award and Shaun Bothell will be taking us through a year in the life of running Scotland's largest second-hand bookshop. Expect to encounter some eccentric and wonderful characters and that's just the staff!  
Shaun Bythell
The Diary of a Bookseller
Balloch Library 7.00pm
Friday 11 May
 How do you provide a personal service in a corporate world? Shaun Bythell runs the largest secondhand bookshop in Scotland and The Diary of a Bookseller is a tale of David vs Goliath.  
Alom Shaha
'Mr Shaha's Recipes for Wonder'
Saturday 12th
Dumbarton Library 12.00pm
Alom Shaha makes a very welcome return to Booked!; this time he will be running a workshop in which children can engage in fun science experiments which anyone can try out at home.  
Screening of Super November
Saturday 12th
Clydebank Library 1.00pm
We are delighted to present Super November a local production from Studio 14c filmed on location in Clydebank Library. Super November is a hugely ambitious mixture of mumblecore-style romantic comedy and Orwellian dystopia.  
Kirsty Logan
'Starting Your Novel with Kirsty Logan'
Monday 14 May
Dalmuir Library 2.00pm & 7.00pm
Want to write a novel – but don't know where to start? Bring your ideas, inspirations  and opening lines along, and find out where to go next. Beginners, intermediate and experienced writers all welcome. Kirsty Logan is an award-winning novelist and short story writer. 
Please bear in mind that you can only book one of these sessions. 
Sally Magnusson
'The Sealwoman's Gift'
Dumbarton Library 7.00pm
Monday 14 May

Sally Magnusson is making her third appearance at Booked! This enormously popular broadcaster and author will be discussing her fiction debut The Sealwoman's Gift which is about the eternal power of storytelling to help us to survive.
Hania Allen
Duntocher Library 7.00 pm
Tuesday 15 May
Crime fiction is a perennial Booked! favourite and Hania Allen is making her Booked! debut. This multi-talented author, who has an honours degree and doctorate in physics, will be telling us about her latest novel The Polish Detective. 
Darren McGarvey (Loki)
'Poverty Safari'
Dalmuir Library 7.00pm
Wednesday 16 May
Darren McGarvey, also known as the rapper, Loki, looks at the realities of systemic poverty in his book Poverty Safari. Darren is well-known as a social commentator and he is a passionate advocate for those from deprived communities.   He also challenges us to examine our own prejudices and value judgements.   
Stuart David
Alexandria Library 7.00 pm
Thursday 17 May
Stuart David is the co-founder of Belle and Sebastian, one of the most influential and acclaimed bands to come from Scotland. Stuart is as adept with words as he is with music and he will be talking about Peacock's Alibi, the latest in his series of Peacock novels. Stuart grew up in Alexandria and the character of Peacock was heavily influenced by some of the people in his neighbourhood.   
Alison Murray
'Make your own Dinosaur feet' workshop
Alexandria Library 11.00am
Saturday 19 May
We have a special Booked! event for our younger audience; leading picture book author Alison Murray will be talking about her book Dino Duckling and giving children the opportunity to design their own dinosaur feet. This will be a lot of fun for both children and their families.
Suitable for 3-5 years 
Booked! 2018 Cabaret Event
in collaboration with Flint and Pitch
Millennium Hall, Gartocharn.
Doors Open 7.00pm Showtime 7.30pm
Friday 18 May
The Booked! Cabaret is the festival finale and following on from last year's stellar line-up of spoken word, poetry and song this year we have: leading singer-songwriter Emma Pollock; writer Chris McQueer, who puts surreal and very funny twists on the everyday; poet Katharine MacFarlane; musician Heir of the Cursed, and poet/songwriter Michael Pedersen. 
We take great pride in presenting such a varied and stimulating programme for Booked! 2018 and we look forward to meeting you at the events. Our festival is a major highlight of the cultural calendar in West Dunbartonshire and I look forward to your continued support of Libraries and Cultural Services.
Costs 
All events are FREE to attend with exception of the "BOOKED! Cabaret" which has a £5 entry fee.   
Booking an Event 
Sponsor images: