Here you will find up to date news from our Road Safety Team.
Ziggy and Speeding Ted's day out at Kilpatrick School
The pupils from Kilpatrick School had a great morning on the Road Safety Bus to promote West of Scotland Road Safety week.
The highlight for the pupils was a special visit from Ziggy and Speeding Ted, both our Road Safety Characters, who spent the morning getting to know all the pupils from the school.  
We'd like to say a special thank you to Sylvia and Toni , our young people, for helping us.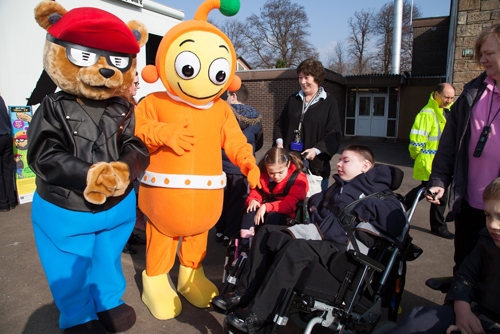 2015 Bikeability Programme
Congratulations to all the pupils who participated in this year's programme.
The photograph is of Bonhill pupils practising their cycling skills on roads in and around their school.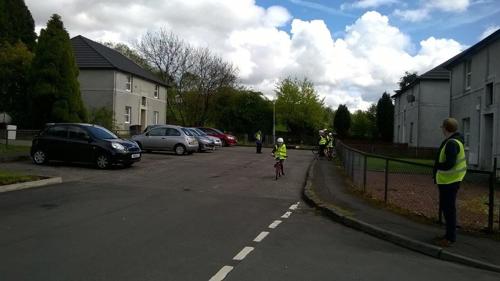 School pupils talk their way to the top in 2015 public speaking contest
Three primary school pupils from Clydebank have taken the top prize in a public speaking competition with their impassioned plea on road safety.
St Mary's Primary pupils Ellie Fitpatrick, Emma Mullarkey and Alexis Pratt beat off stiff competition from five other primary school teams to win the West Dunbartonshire Primary Schools Public Speaking Competition on Thursday.
Teams from St Mary's, Duntocher, Goldenhill, Gavinburn, Ladyton, Jamestown and St Patrick's primaries  confidently demonstrated their public speaking skills after earning a place in the final at the Council's Garshake offices .
Each team spoke on the subject 'Go Road Safety – Keeping everyone safe in and around our schools.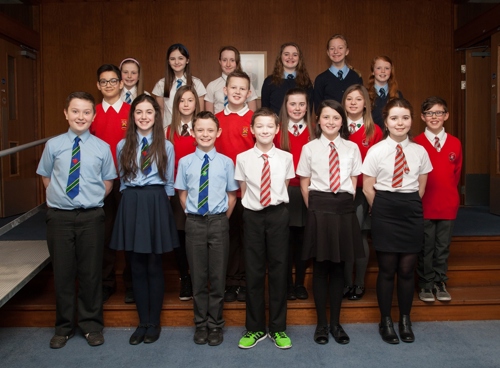 School Gate Banner Competition
Congratulations to all schools who took part in our School Gate Banner competition.
The competition was organised with our Junior Road Safety Officers.  The JRSO's identified the problems they were concerned about around their school and created a banner to encourage all drivers to behave in a safe and considerate manner at start and finish times.
Each banner is unique - click below to see the schools' designs and why not park a little further away from your child's school?
Bonhill, Carleith, Christie Park, Jamestown, Knoxland, St Patrick's, Edinbarnet, Gartocharn, Goldenhill, Haldane, Highdykes, Ladyton, Renton, Our Holy Redeemer's, Aitkenbar, St Eunan's, St Peter's, St Kessog's, Whitecrook, St Joseph's, St Martin's, St Ronan's, St Stephen's
 2014 Classroom Calendar Winning Design
Jack Lee has drawn the top prize in the Council's Road Safety Calendar Competition for 2014. 
Jack's design reminds all drivers that as children are amongst our most vulnerable road users drivers should take responsibility for reducing their speed in and around our schools.
Remember 20mph is speed limit around all schools in West Dunbartonshire - so Slow Down around Schools!
Jack, a Primary 6 pupil at Gavinburn Primary School in Old Kilpatrick, is photographed with his mum, Councillor David McBride Convener of Housing, Environmental and Economic Development, Cllr Kath Ryall and Catherine Tonner, Road Safety Coordinator.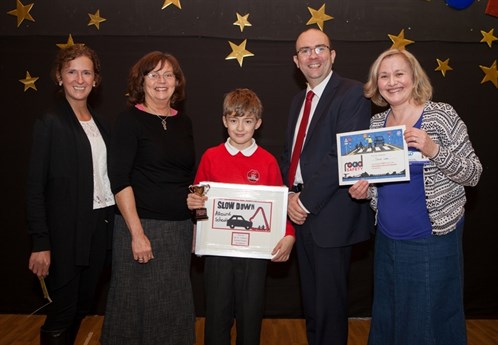 All the winning entries are on display at the libraries throughout West Dunbartonshire until May 2014. Here is an opportunity to view all the winning entries:
Jack Lee     Summer Mitchell    Evan McKay    Melissa Irwin     Jasmine Moody    Milli Lumsden
Josh Reid     Alicia Murphy    Jade Millar    Amy Rooney     Dior Brooks Sophie Edwardson    Sam Bowie
JRSO Design Challenge 2013
The Road Safety Team were delighted to meet all our new Junior Road Safety Officers at their induction training in September this year.  The highlight of the training was discovering the creative talents of the Primary 6 &7 pupils.
The JRSO's worked collaboratively in small teams to form their own design agencies.  Each agency was challenged to;
See the gallery below to view all their innovative designs.
 2013 Primary Public Speaking Competition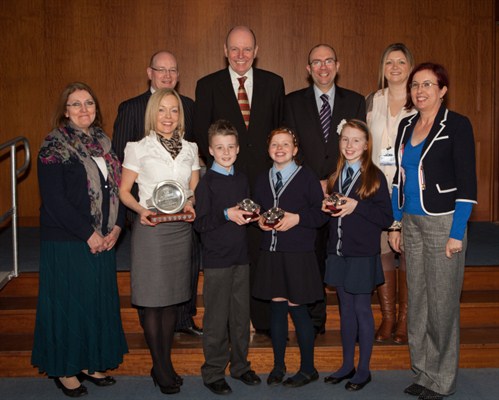 Congratulations to the team from St Mary's Primary School in Duntocher who beat off stiff competition from 5 other teams to win this year's competition.
All teams addressed the topical issue of 'Safer Schools are Car Free' and impressed the judges with their knowledge of this issue and interesting ideas on how to tackle the problems of cars parking at the school gate.
The children are joined in the photograph by principal teacher at St Mary's, Miss Jane Crombie, Councillor Lawrence O'Neill, Executive Director of Education Services Terry Lanagan, Councillor David McBride, Road Safety Officer for ROSPA Kathleen Braidwood and Quality Improvement Manager for Education Services Mary Berrill.
Twelve schools took part in the 2 heats with 3 from each heat going through to the final.  Well done to the runner up teams from Ladyton Primary, Levenvale Primary, Gavinburn Primary, Goldenhill Primary and Edinbarnet Primary.