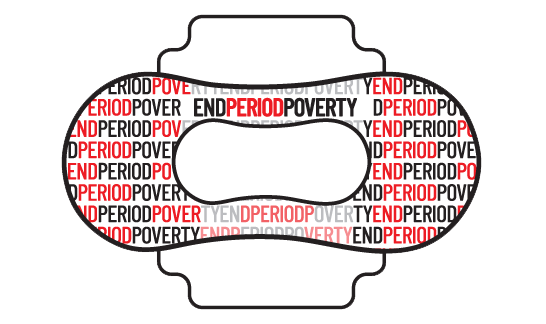 What is period poverty?
Period poverty occurs when, due to being unable to afford proper products like sanitary towels or tampons, people use unsuitable items or nothing at all to manage their period. For some, this can often lead to embarrassment and in some cases results in children missing school.
What is West Dunbartonshire Council doing to end period poverty?
In a bid to help tackle period poverty, West Dunbartonshire Council is funding a new initiative #EndPeriodPoverty, aided by money received from the Scottish Government.
By offering free sanitary products across a wide range of public buildings including libraries, community centres and Council offices, we hope to work towards making period poverty a thing of the past. The Council has made a three-year commitment, working with social enterprise Hey Girls.
Hey Girls offer comfortable, chlorine and bleach free, environmentally friendly sanitary products. However, they do more than just that. For every 'buy one give one' sanitary product purchased, Hey Girls gives another box away for free within the UK and in the last 12 months, have donated more than 2.4 million products.
What is being done to end the stigma around this?
The aim of the scheme is to end period poverty and the stigma around this, by making sure everyone who needs these products can pick them up for free at an easily accessible pick up point – with no questions asked.
Below is a list of those making the free sanitary products available to users of that location:
Alexandria Community Centre, Main Street, Alexandria, G83 0NU
Alexandria Library, Gilmour Street, Alexandria, G83 0DA
Benview Centre, 50 Strathleven Place, Dumbarton, G82 1BA
Citizens Advice Bureau, 77 Bank Street, Alexandria, G83 0LZ
Citizens Advice Bureau, Social Economy Centre, 63 Kilbowie Road, Clydebank, G81 1BL
Citizens Advice Bureau, Bridgend House, 179 High Street, Dumbarton, G82 1NW
Centre 81, 2 Braes Avenue, Clydebank,  G81 3DP
Chest Heart & Stroke Scotland, Unit 20 Artizan Centre, College Way, Dumbarton, G82 1LJ
Clydebank Health Centre, Kilbowie Road, Clydebank , G81 2TQ
The Hub, 405 Kilbowie Road, Clydebank, G81 2TX
Clydebank Independent Resource Centre, 627 Dumbarton Road, Clydebank, G81 4ET
Clydebank Town Centre Office, 10 Sylvania Way South, Clydebank, G81 1EA
Clydebank Town Hall, Dumbarton Road, Clydebank, G81 1AU
Concord Centre, St Marys Way, Dumbarton, G82 1LJ
Cornerstone, Carman Centre, 175 Main Street, Renton, Dumbarton, G82 4PF
Cutty Sark Centre, Howatshaws Road, Dumbarton, G82 3DR
Dalmuir Community Centre, Duntocher Road, Dalmuir, G81 3QX
Dalmuir Library, Dalmuir, G81 4LX
Dumbarton Health Centre, Station Road, Dumbarton, G82 1PW
Dumbarton Library, Bonhill Road, Dumbarton , G82 1BD
Faifley Library, Edinbarnet Campus, Craigpark Street, Clydebank, G81 5BS
Food4Thought, Unit 14a Artizan Shopping Centre, Dumbarton, G82 1LL
Glenhead Centre, Duntiglennan Road,  Duntocher, G81 6HF
Haldane Youth, c/o Haldane Primary School, Miller Road, Balloch, G83 8AA
Meadow Centre, Meadow Road, Dumbarton, G82 2AA
Skypoint Centre, 96b Lennox Drive, Faifley, Clydebank, G81 5JY
Tullochan Family Centre, 9-11 Poplar Road, Dumbarton, G82 2RD
Vale Centre for Health, Main Street, Alexandria, G83 0UA
West of Scotland Autism and Aspergers Centre, Station Street, Renton, G82 4NB
Vale of Leven Swimming Pool, Main Street, Alexandria, G83 0UE
Community Addiction Team, 120 Dumbarton Road, Clydebank, G81 1UG
Community Addiction Team, Joint Hospital, Cardross Road, Dumbarton, G82 5JA
WDC Aurora House, 3 Aurora Avenue, Queens Quay, Clydebank, G81 1BF
WDC Bridge Street, 6-14 Bridge Street, Dumbarton, G82 1NT
WDC Church Street, 16 Church St, Dumbarton, G82 1QL
West Dunbartonshire Community Foodshare outreach locations
Ysortit Youth Centre, 5 West Thomson St, Clydebank, G81 3EA
For more information, please contact working4u@west-dunbarton.gov.uk