Dumbarton town centre has a population of 21,000 and is located on the banks of the River Leven, overlooking Dumbarton Rock and Castle. 
A Revised Strategy for Dumbarton Town Centre and Waterfront was approved in December 2014. This is to be used by WDC and its regeneration partners to guide future projects and development over the next 5 to 10 years.
One of the most significant projects for the town centre is the construction of a new council office making use of the retained façade of the Old Academy Building. It is expected to open in 2017.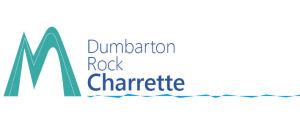 Holding a charrette to involve the community in the development of future proposals for the Rock and Castle area was something which was identified in the 2014 Revised Urban Strategy. The Rock and Castle Charrette took place in February 2015. The Council and its partners are developing the actions from the charrette, as contained within the Charrette Action Plan. The charrette report and Action Plan can be found at - http://www.west-dunbarton.gov.uk/planning-building-standards/dumbarton-rock-charrette/
The priority projects being advanced include:-
A Waterfront Path linking the Rock and Castle with the town centre
Floodlighting of the Rock and Castle
Investigating options for a Multi-Functional Visitor Facility at the base of the Rock and Castle
Investigating suitable locations for Coach and Car Parking
Completing the Castle Improvement Programme - continue roll-out of Castle conservation works and interpretation plan
Gateway Enhancements – undertaking investigative work and design development
Enhancing the climbing area and promoting the heritage of climbing at the Rock and its national significance
A Dumbarton Town Centre Common Good Fund has been agreed to assist within regeneration activity in Dumbarton High Street and town centre.